What is Yelp?
Yelp's is a crowd-sourced local business review and social networking site. The site has pages devoted to individual locations, such as restaurants, where Yelp users can submit a review on their products or services. Businesses can also update contact information, hours and other basic listing information or add special deals. In addition to writing reviews, individual users can react to reviews, plan events or discuss their personal lives. Besides the site you can access Yelp via your phone through their app. In addition, there is a Blog and Weekly Yelp that provides users with updates.
How is Yelp Used by Individual Users?
To understand what is the added value to organizations who open yelp accounts, one has to understand the services provided to individual users.
Individual users who open account on yelp can review businesses, find events, create and find lists, talk with other Yelp users, make reservations, create personal profiles, make reservations and purchases, and have access to special deals. Most of the content generation on Yelp, is done by the individual users.
How is Yelp Used by Businesses/ Organizations?
Most information about existing businesses can be found on Yelp even if the business itself did not open a Yelp account. Yelp authorizes basic business information from third party data providers who gather this type of information from public records and other sources. They also get business information from the individual users, who can add and correct information about local businesses. Businesses listed on Yelp can get reviews even if they are not verified by owners. So the first step before opening a Yelp business account is to check if your business is listed on Yelp. If yes, then you can claim the page and get access to the features provided by Yelp for business accounts:
Yelp for Business Owners
If the profile for your business does not exist, you can go through the process of opening a new one. Once you have added the information regarding your business, you will get a confirmation that Yelp has received such information and are going to review it. Your page will not be available to the public until the information is deemed legitimate.
Products and Features For Business Accounts:
So, once you open the businesses Yelp account you can choose between three features and product options: free tools, self service, and full service (Products and Services). These options give you access to advertisement services for a certain fee. However, note that paying advertisers can never change or re-order reviews.
By opening an account, businesses/organizations can respond to reviews either privately by messaging the reviewer or publicly on their profile page. They can also flag/dispute reviews to be removed, if they violate Yelp's content guidelines. Another important feature of Yelp for businesses if the traffic reports to allows you to gather key insights about your Yelp presence. Though this feature you can track the amount of traffic your Yelp profile receives, see how many times your business showed up in search results on Yelp, and look at how visitors are engaging with your business on Yelp.
Two other important features are Yelp Deal, which allows you to offer coupons to your Yelp audience and Yelp Ads that allows you to reach new consumers (for a fee). Finally, as part of part of the profile, you can upload pictures, add a link to your website, and ensure that the information about your organization (such as phone number or working hours) are accurate and up to date. For more information on the latest tools and features, businesses can access Business Owner's Blog.
Network Type:
Yelp is a two-sided network. This means that both individual users and businesses gain value from the presence of additional users from both sides. Individual users get value from the increase in individual users (network externality) and businesses (across network externality). During my research, I saw that there is a lot of communication between individual users, especially through the 'talk' features. New conversations were being created constantly.
Another important characteristic that makesthe Yelp's model of networking interesting is that individual users get value from the search engine even when business do not participate in actually opening and maintaining their accounts. Because information about businesses is being updated constantly, they can still use the search engine. Further, as stated above, they get a lot of value through the interactions with one another, as Yelp is considered a large networking community.As such,Yelp does not have to use substantial incentives for individual users to subscribe to this platform. With regards to businesses, the biggest incentive to open a Yelp account has been the ability to respond to reviews and the data tracking tools. However, as we discussed in the Cork'd case, this type of network and model might have downfalls (refer to the previous Blog on Cork'd case).
Examples of Community Service/Non-Profit Organizations:
One might think that most reviews on Yelp are for restaurants; however, that is not true. Two-thirds of the reviews on Yelp are for other establishments rather than restaurants. One such establishment are Community and Non-Profit Organizations. There are multiple ways how NGOs can use Yelp as a tool. Besides employing the business features, they can increase their volunteer base, create events, identify potential donors, and others. Yelp on their Blog provides the example of Chicago-based charitable organizations who were able to enlist more than 1,500 volunteers through their Causes for a Party event.
1
Here is another example that shows how Yelp can be used by NGOs:
However, I should note that during my review of the NGOs in different regions of US on Yelp, I did not see much interaction between the organizations and the individual users.
Public Services and Government
Another category that has seen an increase is Public Services and Government. My initial research showed that as of 2014, Federal Agencies did not use Yelp at all.
2
However, when I searched on Yelp, I saw that there is trend among governmental agencies to use Yelp to review public service delivery. What has increased the number of agencies following this trend, is the new agreement in August 2015, between Yelp and the General Services Administration (GSA), which manages the basic functions of the federal government. This agreement allows government workers to read and respond to their agencies' Yelp reviews and incorporate the feedback/data into service improvements.
To fit the different needs of government, Yelp had to amend
terms of service
. GSA stated that they amended the terms of service for Yelp since some agencies have expressed interest. On the negotiated terms, the government agencies will not be able to edit or remove poor reviews. However, they will remove the advertising from government pages.
Some examples of government agencies that use Yelp are:
1) Yelp and the City of San Francisco have developed and are promoting the Local Inspection Value-Entry Specification (LIVES) to try and standardize restaurant and food inspection scores. This system allows to extract Yelp reviews and ratings based on words or phrases such as "dirty" to predict the probability of finding problems at the reviewed restaurants.
2)The State Department is one of the first federal agencies to be online with official pages for some of its passport offices. The New York Passport Agency has close to 300 reviews. However, I did not see any interactions between the agency and individual users on their page. This suggests that the goal of having a Yelp page is to make use of the data to improve service delivery.
3) The U.S. Department of Transportation and the National Highway Traffic Safety Administration (NHTSA) has a mobile app to help people who have been drinking get a safe ride home called 'SaferRide.' The goal is to encourage potential drunk drivers to stay off of the road. Through the app, they help them to connect to a friend or a taxi company to secure a safe ride by providing their location. The information regarding the taxi companies was retrieved from Yelp.
Other examples include health statistics and food inspections.
One organization that has not done such step forward is Transportation Security Administration (TSA). TSA pages on Yelp on average get negative reviews. However, when asked about the new agreement between GSA and Yelp, a spokesperson for TSA said that he is not aware.
3
He said that they monitor the comments on Yelp but they do not plan to respond to reviews. Further, he said that they "believe that there are more benefits to a real-time, two-way exchange between the TSA and travelers on Twitter."
4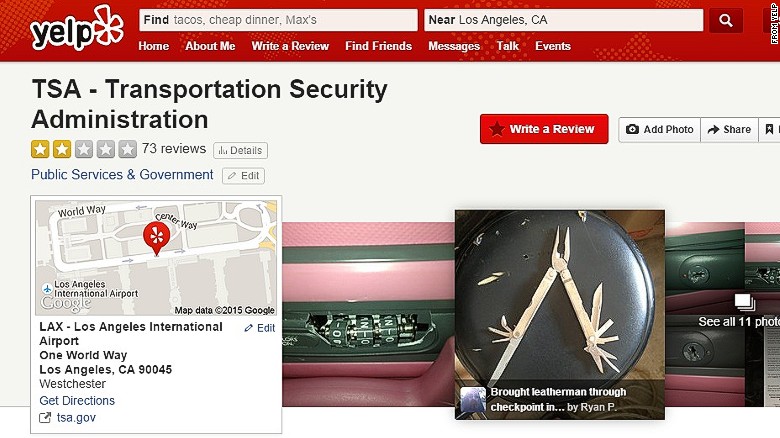 Assessment on the Use of Yelp by Government:
The overall assessment is that Yelp is used by only few governmental agencies at this stage. Mostly, in terms of reviews for public services like the example of State Department. So far, they have used Yelp data and statistics to make improvements in their services or have included information from Yelp or the platform itself as part of their service. However, none of these agencies are using the platform to interact with the individual users. The new agreement might open the door for that and we can see more governmental agencies interacting with people, despite being unlikely. Nonetheless, we might see more governmental agencies claiming their pages. It is important to recognize the value that Yelp brings for NGOs and governmental agencies in terms of providing a tool for direct contact with citizens, data gathering, and review of service delivery.
Yelp is a platform with millions of users who are doing reviews regardles of the presence of organizations. Making use of the existing data rather than creating a new system to understand the views of citizens will save your organization time and resources. As Phaedra Chrousos, chief customer officer at GSA, said regarding governmental presence in Yelp: "Let's not reinvent the wheel. Let's go where the public is anyway."
6
Issues to Think About:
There are some issues that we as managers have to keep in mind when we decide if we want our organization to be present on Yelp:
The big question is whether Yelp reviews will actually lead to improvements in services. If you are working in a governmental organization, you cannot get out of business because you got negative reviews, as a restaurant would do. You have to think if you have opportunities to improve based on those reviews.
While government has modified and agreed to new terms with Yelp, NGOs usually have to prescribe to terms that businesses prescribe to. As such, you have to be aware of issues related to security and privacy.
Yelp has had some bad press and legal issues that people should be aware of before they decide to bring their organization in this social media platform:

Most new positive reviews are filtered by Yelp. Yelp has been accused of improperly filtering reviews and hiding the identity of reviewers, which could taint the process and harm the reputation of its data used for governmental purposes.